St. Peter's Episcopal Church celebrated a passing custom of ladies wearing hats on Sunday.  Ladies and Gents had fun sporting their favorite hat.  The hats range in age from 5 years to 80 years old.  Past great grandmothers, grandmothers and aunts who originally wore the hats were remembered.  Father John joined in the fun by wearing his Biretta and sharing his story about the hat.  The photo was taken at the 7:30 St. Peter's Service.
https://stpeterssheridan.com/wp-content/uploads/2016/06/hat-day.jpg
720
1280
StPetersChurch
https://stpeterssheridan.com/wp-content/uploads/2014/09/LOGO.png
StPetersChurch
2016-06-20 09:50:14
2016-06-20 09:54:09
Hat Day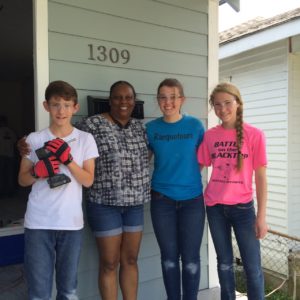 Teenage youth and families from St Peter's traveled to New Orleans over their Spring Break 2016. They spent 3-1/2 days doing volunteer work under the leadership of 
lowernine.org
.  Work was perfomed at two different locations in the New Orleans neighborhood referred to as the Lower Ninth Ward. The devastation that is still very obvious in this area of New Orleans was an eye opener as to just how long recovery can take.  It was unanimous with the group that everyone would return if given the opportunity.
Lowernine.org is a non profit organization dedicated to the long-term recovery of the historic Lower Ninth Ward, one of the hardest hit neighborhoods in New Orleans from Hurricanes Katrina and Rita and the levee breaches of 2005. This organization has brought home more Lower Ninth Ward families than any other single organization. Conservatively, they estimate it taking another decade to rebuild this neighborhood.
https://stpeterssheridan.com/wp-content/uploads/2014/09/LOGO.png
0
0
StPetersChurch
https://stpeterssheridan.com/wp-content/uploads/2014/09/LOGO.png
StPetersChurch
2016-05-18 16:14:44
2016-05-18 16:15:25
St. Peter's Youth Travel to New Orleans